"The Great Exhibition of the Works of Millinery of All Nations"
As I previously posted my design was chosen to exhibit at London Hat Week 2018 and was also chosen for their Press launch on February 22nd. As always there was a theme to follow and it is as follows.
The name of 2018 London Hat Week official exhibition came from the historical event that took place in London in 1851. The Great Exhibition of the Works of Industry of All Nations or 'The Great Exhibition', sometimes referred to as the Crystal Palace Exhibition, was an international exhibition that took place in Hyde Park, London. It was the first in a series of World's Fairs, exhibitions of culture and industry that became popular in the 19th century, and it was a much anticipated event. Following the successful 21st Century Hat Exhibition in 2015 and Milliner x Artisan exhibition in 2016, we celebrate world culture heritage in magnificent hat designs at The Great Hat Exhibition in March, 2018.
To fit in with our 'world fair' theme, we invite milliners from all over the world to showcase their beautiful creations that have been inspired by a piece of history or culture, or crafted with unique technique or craftsmanship of their nation!
THe Great HAt EXHIBITION 2018
So for my piece I chose the Irish Industrial Revolution and found out some rather interesting information whilst doing my research. Below is my entry piece Evolution.
Evolution
Many think there wasn't an Industrial Revolution in Ireland but in fact there was. Ireland has a vast history of hand making textiles for centuries including weaving and spinning. These were originally rural and cottage based skills produced in the homes of many Irish people.
Textiles in Ireland became industrialised between 1790 and 1910. This meant that hand weaving and spinning now became mass produced commodities, especially in Northern Ireland due to the Industrial Revolution.
During this time the great famine hit Ireland and in 1850 a Scottish man called Peter Tait founded Peter Tait's Factory to employ famine survivors in County Limerick. This became the first ready-made clothing factory in the world.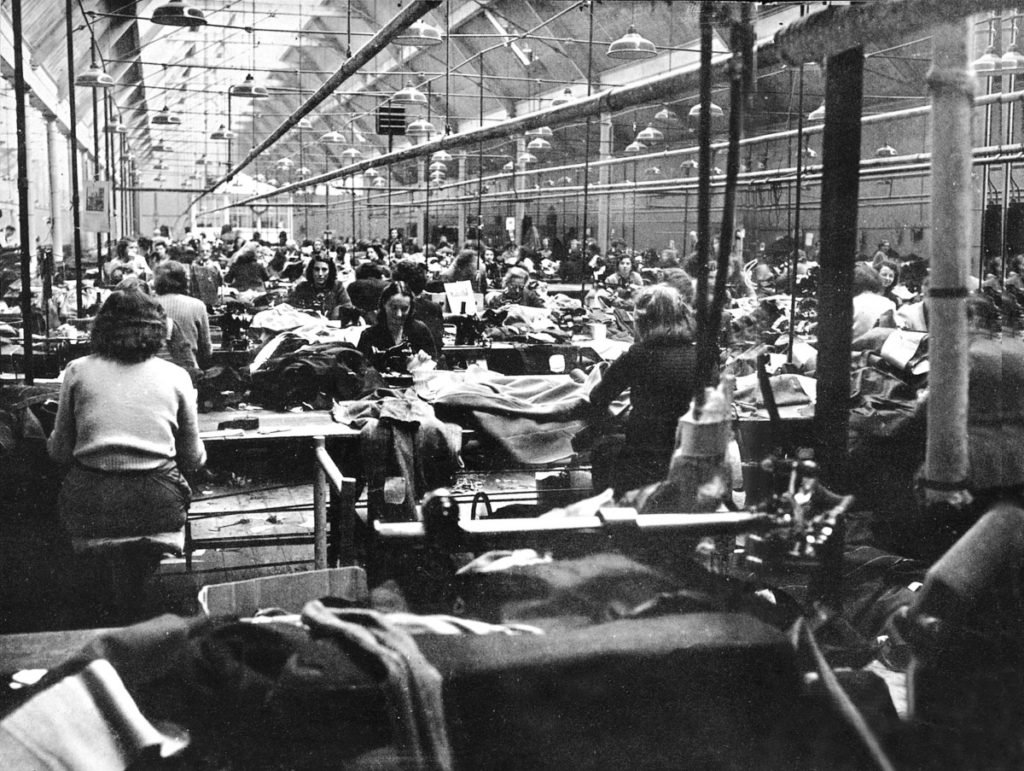 The Limerick Clothing Factory
Tait changed the clothing industry forever. Items had previously been crafted by skilled tailors and dressmakers. Tait could turn out items much faster on the newly invented sewing machine. Tait also installed the first power driven sewing machines in Europe. Clothing manufacturers from various other countries travelled to Limerick to learn from this revolutionary factory.
Peter Tait
This was the information I needed to set about creating my design. I wanted to combine the idea of creating my design from my own handmade fabric and add an engineering element into the design.
Evolution
I began by constructing my fabric called Saraden Fabric. It is made up of various fibres in various colours. For the engineering element I took inspiration from Peter Tait's story and opened up my own sewing machine and watched it run. The gears turning together in the machine gave me inspiration as they are the vital element which makes the machine run.
CLose up of the Gear and wire detail
I began by construction by making sheets of my Saraden Fabric. I wanted the colours of my fabric to echo the colours of gears but to still be aesthetically pleasing. I used gold, brown, black, orange, white and grey fibres in my fabric making to achieve my desired colouring
Close up of my Saraden Fabric
I created one large piece in the gear shape which is the base of the hat. I then constructed 3 smaller gears shapes and raised them up off the base gear using clear beads. These smaller gears were overlapped to give the impression of the gears turning.
This looked fantastic but it wasn't enough, I wanted to add another element into the design. I found small metal gears and using wire I intertwined them throughout the design in one specific place. This added a focus element which brought the whole design together.
And that is how I created Evolution.  I had a custom box built by an amazing company Alpack to ship the design and it is currently en route to London. I am really looking forward to seeing my design set up when I get to London.